DMC-ITS: Seminar on summarizing and learning from experience in the project implementation
Recently, at the Office of Corporation, DMC-ITS has held a seminar on Summarizing and learning from experience for recent implemented projects. In the seminar presented representatives of Leardership Board of Corporations and DMC-ITS, managers of implemented and implementing projects as well as all staffs of DMC-ITS.
Established in 2010, DMC-ITS (Formerly known as DMC-Ha Noi Branch) has gradually asserted in the field of supplying industrial technical service. DMC-ITS has continuously become the Contractor of large constructions such as Building Process of Nghi Son Refinery Plant, The third Overall Maintenance of Dung Quat Refinery, the Overall Maintenance of Ca Mau Fertilizer Plant in 2017 and a range of other projects.
For Nghi Son Petrochemical Refinery Complex Project, which is one of national key projects, DMC-ITS has been one of the first Vietnamese contractors supplying clean services such as Cleaning by chemicals, hydraulic fluid, mechanics, high pressure water jet, etc. Moreover, DMC-ITS has also built and operated industrial waste and domestic water treatment stations; supplied and installed industrial scraffolding. With experience and capability accumulated from each project, DMC-ITS has done well as a contractor and asserted its status and capability of a Contractor via the evaluation of JGCS contractor complex.
The first project of DMC-ITS in Nghi Son Petrochemical Complex Project was Building and Operating Waste Water Treatment Station (WWT) with a capacity of 500m3/ day and night and the function of waste water treatment for on-site WC and office areas of Nghi Son Refinery Plant, JGCS and subcontractors on construction site. After completing WWT, DMC-ITS has been high evaluated by customers and assigned Supplying and Operating on-site toilet system of Nghi Son Refinery Plant in the constructing period until the end of Plant inspecting period. After 40 months of implementing, DMC-ITS supplied and installed nearly 70 container toilets of 20 and 40 feet meeting the demand of customers even in the peak period with the number of workers reaching 33,000. This project has brought a revenue of more than 175 billion VND for DMC.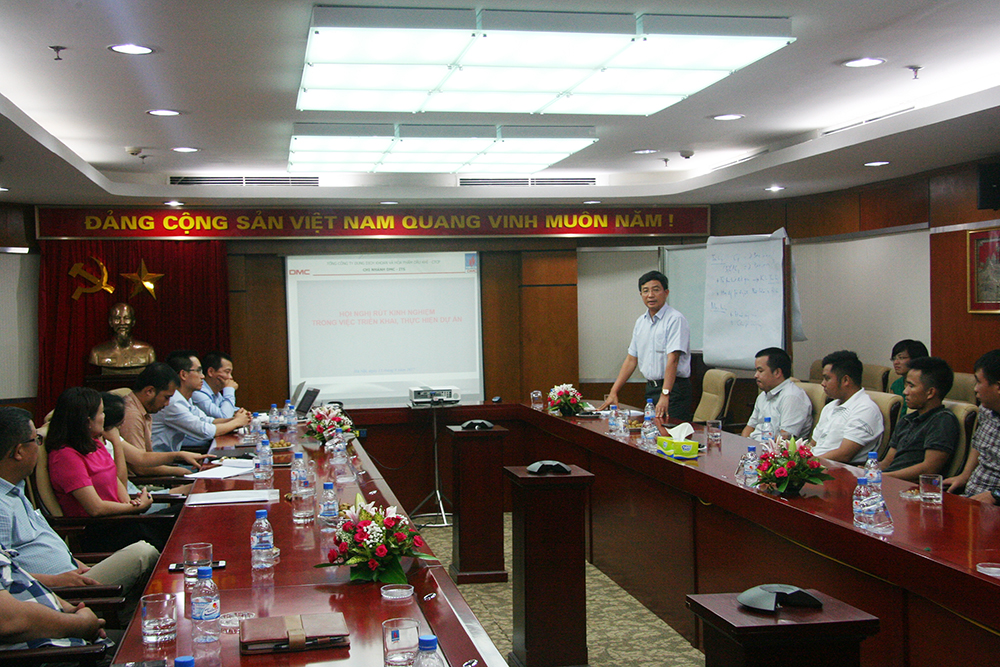 Mr. Ton Anh Thi, General Director made a speech in the seminar
From the success of the first project, DMC-ITS has signed other projects:
Building and Operating Effluent Treatment Plant (ETP) in the Plant inspecting period with a capacity of 500m3/ day and night. DMC-ITS took responsibility for effluent treatment of the Plant in the trial period from October 2015 to August 2017 with the value of more than 36 billion VND.
Building and Operating ETP after the process of hydraulic fluid checking of crude oil pipeline system with the amount of treated waste water of about 35,000 m3 and a capacity of 1,500 m3/ day and night from July 2016 to December 2016 with the total value of 18 billion VND.
Supplying and Installingscraffolding from January 2015 to April 2017 with the total value of about 323 billion VND. This project installed 290,000 m2 BS1139 scraffolding including scraffolding for sphere pipelines, sphere tanks, oil tanks, flare tops, harbor area and other construction areas.
Besides, Cleaning service field has also marked DMC-ITS's efforts when it took part in successfully international package on Cleaning by chemicals and Washing off pipelines, equipment by oil with the revenue of more than 70 billion VND. This project has been implemented from August 2015 to August 2017. DMC-ITS took responsibility of cleaning by chemicals for about 33 equipment sections and washing off by oil for about 22 turbines and equipment.
DMC-ITS has also cleaned for a range of oil tanks, 5-kilometer AOC by high pressure water jet from December 2016 to March 2017 with the revenue of 5 billion VND; cleaned the edge and the inner of oil tank 6, 7, 8, 190 and 070 from November 2016 to March 2017 with the revenue of 4 billion VND.
In addition, DMC-ITS supplied the service of air compressor and dryer rental for investors from December 2015 to February 2017 with the revenue of 45 billion VND.
Up to now, DMC has signed and implemented 10 main packages and more than 100 contracts and appendixes for Nghi Son Refinery Plant Project which gained the total value of contracts signed with JGSC to nearly 700 billion VND. This has not been a large number but has contributed to affirm the brand of DMC-ITS in particular and DMc in general in key fields of technical services and industrial cleaning and environment treatment, which opened opportunities for developing other industrial services.

DMC's staffs taking part in Package No.5 – Overall Maintenance of Dung Quat Refinery

In the third Overall Maintenance of Dung Quat Refinery Plant in 2017, there are 7 main contractors including 4 foreign contractors and 3 Vietnamese ones. DMC-ITS is one of three Vietnamese contractors and has taken responsibility of implementing Package No.5 "Supplying overall maintenance service for Offsite 2 area, sphere tanks and seawater pipelines in the third overall maintenance". DMC-ITS has implemented tasks: Painting 4,500 m2 of seawater pipelines; cleaning FO, DO tanks and other pipelines at the area of storing oil products; cleaning 2 sphere tanks, fixing mechanic items belonging to product output pipelines; disassembling, maintaining all the system of seawater pipelines at the area of Offsite 2. With close direction of TCT and DMC's managers as well as the determination of all engineers, workers on site, the Package No.5 finished earlier than 5 days and became the Contractor having the earliest finish time.
In the Overall Maintenance of Ca Mau Fertilizer Plant in 2017, DMC-ITS has also supplied high-voltage equipment installing and fixing service.
Having not satisfied with achieved results, at the seminar, each leader, engineer, staff who directly implemented tasks on site contributed a lot of ideas about the methods of preparing and implementing the project, managing human resources, attracting talents. Simultaneously, the Leardership Board of DMC-ITS itself also evaluated limitations from the process of reaching customers to the section of implementing project, finalizing project, etc. Via self-evaluation, DMC-ITS learned a lot for later projects.
At the seminar, Mr. Nguyen DucGiang – the Director of DMC-ITS shared "We implemented many projects and achieved significant successes because of the orientation and support of Corporation, attempts of all staffs and even luck. However, we will not satisfy with achieved results. We have to evaluate the real situation, difficulties as well as failures to improve expertise, responsibilities along with working methods. Each individual doing that way will help DMC-ITS stronger, more professional and have more contracts.
On behalf of the Leadership Board of DMC, Mr. Ton Anh Thi – General Director affirmed and recorded resulted DMC-ITS has achieved. However, to reach the strategic target of Corporation which is to help DMC-ITS become the leading ashore service supplier, DMC-ITS has still had many things to do. Mr. Ton Anh Thi asked the Leadership Board of DMC-ITSto reorganize the apparatus, build the data system of projects. For each engineer, worker of DMC-ITS, they have to self-study and improve their skills to complete assigned tasks.
Other articles